Welcome to Stumptown Wiki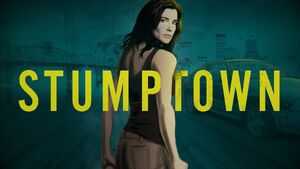 Stumptown is a crime drama TV series based on the graphic novels of the same name.
The series follows Dex Parios (Cobie Smulders) – a strong, assertive and sharp-witted army veteran with a complicated love life, gambling debt and a brother to take care of in Portland, Oregon. Her military intelligence skills make her a great PI, but her unapologetic style puts her in the firing line of hardcore criminals and not quite in alliance with the police.
Writer Jason Richman produces the series with Ruben Fleischer and David Bernad (The District), Greg Rucka (author of the Stumptown graphic novel series), Matthew Southworth, and Justin Greenwood (illustrators of the Stumptown graphic novel series). James Griffiths is an executive producer and directed the pilot.
Stumptown airs Wednesdays at 10/9c on ABC.
About Stumptown Wiki
We're the official wiki for Stumptown, with the goal of getting to know Dex Parios by documenting all of her antics. With your help, we can kick start a comprehensive and informative resource about the show. Feel free to browse our content and see if there is a case worth looking into!
Community content is available under
CC-BY-SA
unless otherwise noted.